Social services in times of crises: Building resilience and improving attractiveness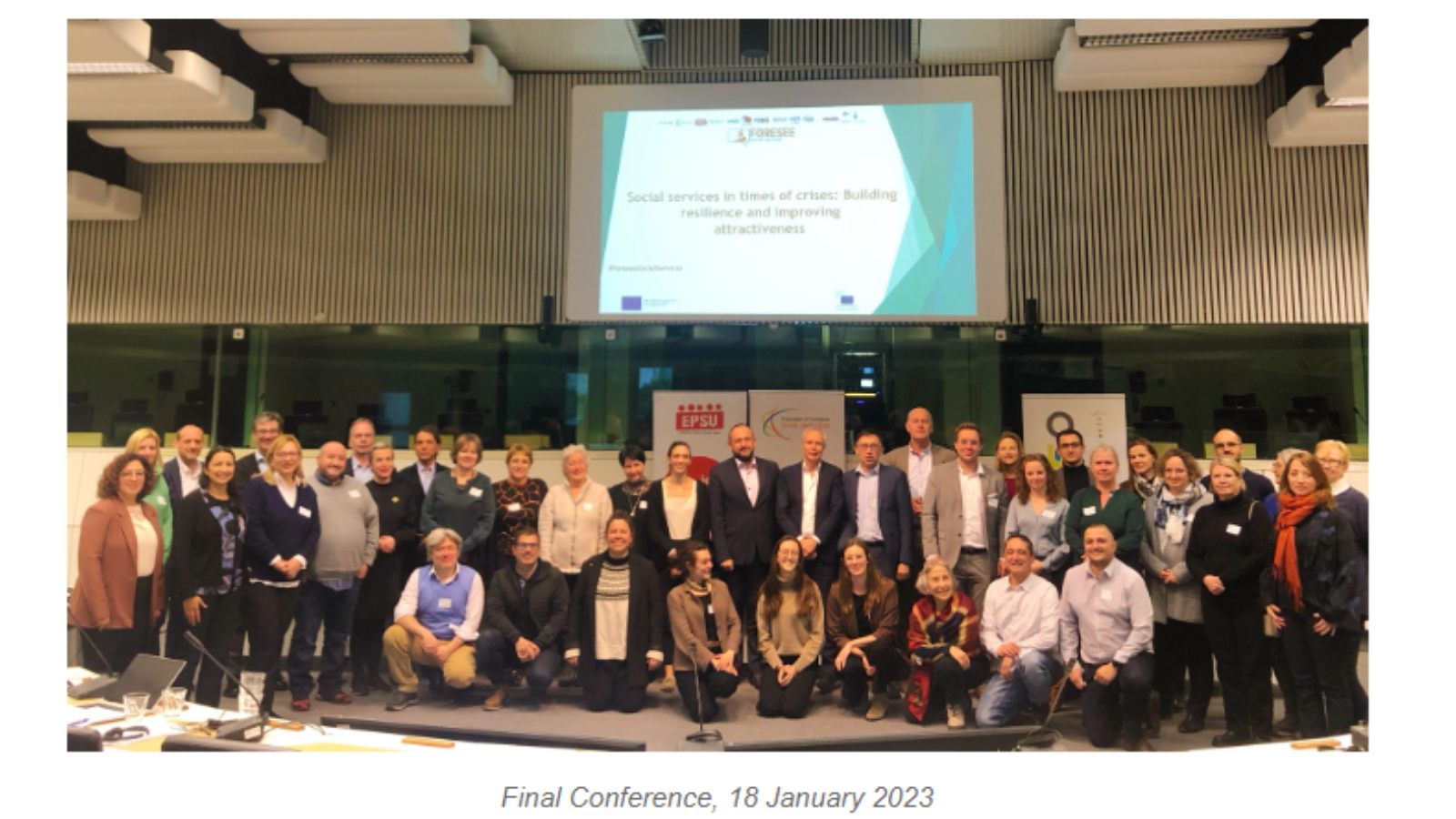 On 18 January, the FORESEE project final conference took place in Brussels. This conference marked the end of the two-year project, which aimed at strengthening EU and national social dialogue in social services, and helping the sector better manage current and future challenges, such as the attractiveness and Covid-19 impact & consequences.
The event, held at the European Economic and Social Committee (EESC), gathered employers' and employees' representatives, as well as other relevant stakeholders from 22 European countries.
The event was opened by Ms Kinga Joó, member of the European Economic and Social Committee and Mr Dominique Van de Sype, Secretary General of UNIPSO.
The morning session provided an overview of the FORSEE project results. Based on the report on the consequences of Covid-19, social partners from Belgium, the Netherlands and Austria discussed the impact of the pandemic and the role of social dialogue to face new crises. The discussion focused on the resilience of the sector and the impact of the inflation and the rising energy costs.
The FORESEE partners also presented the lessons learned and results from the training on social dialogue in Greece, Romania, Portugal and Poland and the initiatives on attractiveness in the targeted countries (Greece, Romania and Poland). The training was of great benefit to participants and opened the door to continue working on these two topics at national level.
The afternoon session brought together speakers from the European Commission, EU OSHA and OECD to discuss working conditions, skills, resilience and social dialogue. This was followed by the presentation of the Social Employers and EPSU new joint statement, urging EU Member States to take action now to implement the European Care Strategy.
Jan Willem Goudriaan, General Secretary of EPSU and Jiri Horecky, Vice-President of the Social Employers closed the conference, by highlighting the Social Employers and EPSU commitment to continue working together as social partners to improve working conditions, address staff shortages, attractiveness and future challenges through social dialogue.